Obituary Notices
The Club offers an Obituary service to members who would like to commemorate their cat in the Club's magazine and/or on the Club's website. To take advantage of this service, please provide the following details:  pedigree name of cat, pet name, sire & dam, date of birth and death and the names of the breeder and owner and a brief message, which may include the cause of death, if desired. A single photograph may also be published.  Please include a donation to the Club's Benevolent Fund of a minimum of £10. 
Please indicate if you wish the Notice to be published in the magazine only and/or website. The Notice will remain on the website for six months. 
The above details should be forwarded, by post or email, to Mrs Michele Codd, Dirhams, Colsterworth Road, Stainby, Lincs NG33 5QT Email michele.dirhams@hotmail.com. 
Frilford Bluestocking (Indigo) BUR a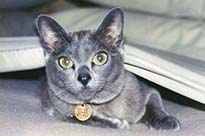 Sire: Gr Ch Bishopston Sophus Alcides.
Dam: Frilford Forever Amber.
Breeder: Lady Sheila Bruce-Gardner.
Owners: Richard and Kate Jones
Born: 21st February 1999. Died: 3rd March 2017.
Our beloved Indigo, the gentlest and most sweet natured of girls, always a comfort and a constant purr machine, having brightened our lives for 18 wonderful years, had to go to sleep due to kidney failure. She will always be remembered by us and by her little "sister" Lylla (Burmarose Lilac Wisteria).
Jarujuda Mar (Carlo) Chocolate 27b
Jarududa Myan (Monte) Blue 27a
Born 16th March 1998, Died 12th April 2017
Sire: Ch Kathima Conquistador.
Dam: Candistar Azzara.
Breeder: Mrs Juliet Grineau.
Owners: David and Gerry Blockwell.
They were born together, lived together and died of illnesses together, in hospital within minutes of each other, whilst being stroked by us, four weeks after their 19th birthday.  They enriched our lives and those of all they came into contact with – gone, but not forgotten, their spirits will always live on in our hearts.