Obituary Notices
The Club offers an Obituary service to members who would like to commemorate their cat in the Club's magazine and/or on the Club's website. To take advantage of this service, please provide the following details:  pedigree name of cat, pet name, sire & dam, date of birth and death and the names of the breeder and owner and a brief message, which may include the cause of death, if desired. A single photograph may also be published.  Please include a donation to the Club's Benevolent Fund of a minimum of £10. 
Please indicate if you wish the Notice to be published in the magazine only and/or website. The Notice will remain on the website for six months. 
The above details should be forwarded, by post or email, to Mrs Michele Codd, Dirhams, Colsterworth Road, Stainby, Lincs NG33 5QT Email michele.dirhams@hotmail.com. 
Chinukta "William"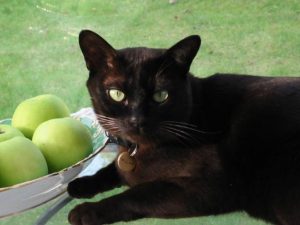 Breeder: Christine Hourieh
Owner: Nicola Joss
Born: 17th November 2000
Died: 15th March 2018
I've just had to put my beautiful brown boy, William, to sleep after a sudden, but serious illness.  I am still in shock. He was the most loving, affectionate cat I've ever come across. He was very handsome and his shiny brown coat was really quite stunning and much admired.  What a character – playful, naughty but such terrific fun. He lost his beloved sister two years ago and I don't think he ever stopped missing her. My heart is broken by the loss of this wonderful little boy.
Chardas Aurial (Lucy)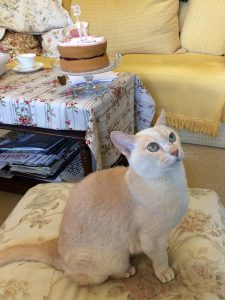 Sire:  UK Gr Ch Traviesco Corncracker BUR 27f
Dam: Chardas Wild Rose
Breeder: Tracey Weller
Owners: Jacqui and Roger Collier
Born: 10th September 1998
Died: 27th December 2017
Our beloved Lucy lost her five year battle with kidney disease this Christmas.  She was our very special little girl, best friend to our two Scotties whom she adored, and sister to the gorgeous Kim who we tragically lost just after his second birthday.  Lucy was not just our adored little Burmese but she had very special talents. She alerted her diabetic 'Mum' to risky low blood sugars, kept the garden free of rabbits and the house free of mice, but never touching the birds, and on the loss of each of our pets she came to sleep in bed with us on that night where she would sleep each night for a month curled up beside me. Such a great comfort.  She was fit and well right to her last few days and like a true beauty retained her looks into old age.  The photo shows her on her nineteenth birthday.  We will miss her beyond measure. Bless you Lucy.
Imperial Grand Champion and Imperial Grand Premier Highlander Heavensent  (Holly) bur c Lilac
Sire: Gowlaren Royal Flush
Dam: Ch Rumba Ursinnia
Breeder: Jenny Verlander
Owner: Jenny Verlander
Born: 12.10.05 Died: 02.12.17
Holly passed away owing to sudden and acute kidney failure.  She was my beautiful, feisty, precious girl who is so sadly missed.  Here's looking at you kid x
Grand Champion Highlander Aphrodite (Kylie) bur b Chocolate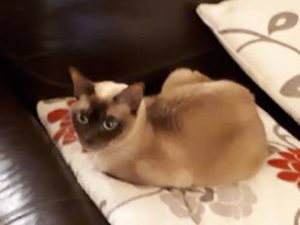 Sire: Gr Ch Eglinton Erol Brown
Dam: Gr Ch Highlander Eternal Flame
Breeder: Jenny Verlander
Owner: Jenny Verlander
Born: 09.04.11 Died: 04.12.17
Kylie had inoperable intestinal tumours and was put to sleep to avoid further suffering.  She was a sweet girl who had many lovely babies and cared for them so well.  Sleep tight darling girl x