Rescue and rehoming list
Unfortunately some cats find themselves needing new homes for various reasons, often due to changes in personal circumstances of their present owners. If you can help by giving a loving home to one of the beautiful cats listed below please contact the appropriate person or if you wish make a general enquiry concerning rehoming a Burmese please contact our Welfare Officer: Sally Ferguson Tel: 01483 828625 Email: sallyannferguson@hotmail.com or our Asst Welfare Officer: Jane Suckling Tel: 01476 530414 Email: jane@millcats.plus.com
Please read our information article about adoption donations and fees here.
Cats ready for re-home
Merry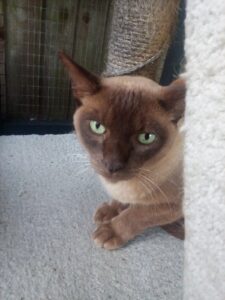 Merry is a 10 year-old Chocolate male neuter in good health, looking for a new lap to sit on in his furever home.
Merry is a lovely friendly cat who likes people and is very happy in company.
He likes being stroked anywhere and likes "backwards stroking" in his rear half.
He will join you on the bed given half a chance.
If you want him to sit on your lap while watching TV he is more likely to do it if you have a blanket on your knees.
One peculiarity is that if you are going upstairs and he is around he will race in front of you and lie down on a step to bet petted!
He is an outdoor cat.
Contact
Sally Ferguson
01483 828625