Rescue and rehoming list
Unfortunately some cats find themselves needing new homes for various reasons, often due to changes in personal circumstances of their present owners. If you can help by giving a loving home to one of the beautiful cats listed below please contact the appropriate person or if you wish make a general enquiry concerning rehoming a Burmese please contact our Welfare Officer: Sally Fergason Tel: 01483 828625 Email: sallyannferguson@hotmail.com or our Asst Welfare Officer: Jane Suckling Tel: 01476 530414 Email: jane@millcats.plus.com
Cats ready for rehome
Charlie and daisy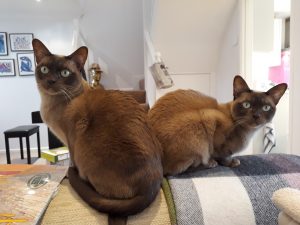 Charlie and Daisy are indoor cats, they are both females born in the same litter in April 2011.  They have their pedigree papers and their full medical histories. They have both been neutered and their vaccinations kept up to date. They're both in excellent health (Charlie had all but her canine teeth removed a year ago due to orafacial pain syndrome/gum disease and has not suffered from anything since) and are extremely affectionate, lovely cats.
They have very different personalities! Charlie is incredibly smoochy and purry and loves being picked up and cuddled. Daisy doesn't like being picked up as much but is definitely a lap cat! She likes to sleep in the crook of your arm at night. They are very attached to each other, spending most of the day curled up together or chasing each other around with some occasional rough play! They are both vocal cats, not just when they're hungry.
Contact: Sally 01483 828625
Maddi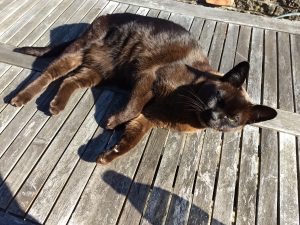 Maddi is a 12 year old girl looking for a loving and attentive home as she has Stage 2 kidney disease. This is managed by diet and she is currently very well. She is a fun loving, sometimes feisty girl – typical Burmese. Her prognosis is good and needs someone who can provide lots of that Burmese TLC. Located in East Midlands.
Contact: Jane 01476 530414
Tom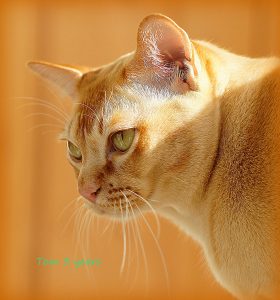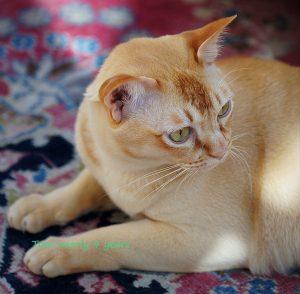 On the advice of a behaviourist, and other Burmese cat experts, Tom needs to find a new indoor home without other cats. He is a beautiful, loving and gentle red Burmese, he is neutered and 4 years old boy. Living with other cats is making him very stressed and he needs a loving indoor home, preferably with a run. Someone retired or home a lot would be perfect as he is a very sweet boy and needs human.
Sally
01483828625