Rescue and rehoming list
Unfortunately some cats find themselves needing new homes for various reasons, often due to changes in personal circumstances of their present owners. If you can help by giving a loving home to one of the beautiful cats listed below please contact the appropriate person or if you wish make a general enquiry concerning rehoming a Burmese please contact our Welfare Officer: Sally Fergason Tel: 01483 828625 Email: sallyannferguson@hotmail.com or our Asst Welfare Officer: Jane Suckling Tel: 01476 530414 Email: jane@millcats.plus.com
Cats ready for rehome
Thomas

Thomas is a chocolate Burmese  7years old, he has  all his boosters up to date and he has been micro chipped .Due to health problems his owner need to find him a loving home. Thomas is a house cat  but he does sit on the balcony in the summer, very affectionate,  he is not used to childen , so preferably his new owners would be a couple, or a person living on there own. Based in North Wales.
For further information please contact Sally 01483828625.
bert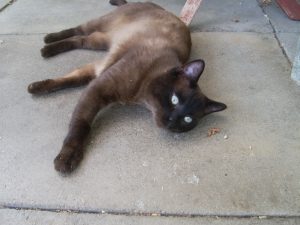 Bert was handed into a veterinary practice having been found on the streets. Despite considerable efforts to find his owners – no one has come forward. So Bert is looking for a new home. He is about 4 years old, is in good health, and has just been neutered.
Bert is not a typical Burmese and needs to be an only cat as he appears to be quite aggressive towards other felines. He may adapt to dogs. He would be best placed in a farm or stable environment where he can range freely. He is playful and lively and whilst he can be affectionate, he is a bit of a biter.
Contact – Jane 01476 530414
East Midlands
Nutmeg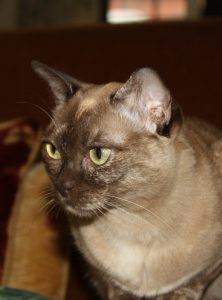 My name is Nutmeg, I am a 7½ year old chocolate tortie and I am looking for a new home.  Because I am a little hard of hearing I need to be an indoor cat and although I love human company, I prefer to be the only cat in residence.  I can be a bit feisty at times so a home without children would be more suitable.  I like nothing better than a nice warm lap to cuddle up on and lots of human companionship.
Contact – Sally
01483 828625
Surrey