It was fantastic to see all of the entrants and owners having such a wonderful time at the Woking Leisure Centre. It was a wonderful atmosphere. There were raffle prizes, fantastic toys and stalls to browse and plenty of prizes to be won! Please scroll down for the full show report and to see some fantastic shots of the day by Ian Jarvis. You can also see a video slideshow of the day here.
This year the show was featured in the local press! You can read the full article here.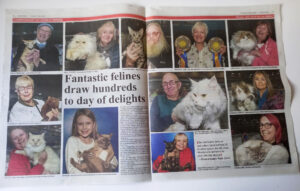 We also had some fabulous feedback from the vets, helpers and judges..
Brilliant. Well done to you all. It was a great show and the communications etc made it feel like a real event to be excited about.
Thanks for your email about the show, we will be there next year!
It was lovely to meet you properly, thank you for your advise & help on show day was much needed & appreciated.
Well done on an excellent day!
How lovely – and what a difference a well run show makes. Thank you all & I look forward to seeing you all next year
Brilliant show and just so well run
Wow.  That's nice 
Thank you for that, it was like the old days!!  It was a lovely show.
Excellent. Maybe GCCF should collect these things for their website etc
Thank you, kind of you to send, nice to get a bit of local publicity
Congratulations on a very well run and friendly show and I look forward to the 2024 show
Burmese CC Best in Show 2023
Adult
Brown Burmese Adult Male, IGrCh ROSSIKHAN LOVELY JUBBLY owned by Miss Michele Garrod, bred by Mrs Janet Wilshaw
Kitten & Overall BIS Burmese
Brown Burmese Kitten Female, RAWEKE ATHENA owned by Mrs Melinda Nicholls, bred by Dr Sally Giles
Neuter
Blue Burmese Neuter Female, OB IGrCh & OB IGrPr CATAMARIAN EVITA owned by Mrs Maria Chapman-Beer, bred by Mrs Marianne McFarlane
Pedigree Pet (BCC & BCS Joint Non-Ped Show)
Shorthair Pedigree Pet, IGMC ARNOLD owned by Ms Shona McFarlane
Household Pet and Overall Non-Ped BIS (BCC & BCS Joint Non-Ped Show)
Non-pedigree Pet Shorthair Kitten, WREN owned by Mrs Sandra Pritchard
Surrey & Sussex Cat Association Best in Show 2023
Section 1
Tortie & White Persian Adult Female, UK OS IGrCh JEMINEVE SPARK-OF-MAGIC owned by Mrs K Fairbanks, bred by Mrs E J Rock
Section 2
RagaMuffin Neuter Female, UK OG IGrPr CHEHAM CHANTILLY LACE owned by Miss E M Camilleri, bred by Mrs C L Powell & Mr A Wells
Section 3
British Lilac Adult Male, Ch CUTISSIMO WOODY owned by Mrs J Bradley, bred by Mr T Acton & Miss S Taylor
Section 4
Aztec Adult Male, Ch THORSOAK NJORD-BALDRSSON owned and bred by Mrs M & Mr O S Maudlin
Section 5
Lilac Burmese Adult Female, OB IGrCh TRIBUNE CINDERELLA owned and bred by Mrs Maria Chapman-Beer
Section 6
Seal Point Siamese Neuter Female, owned by Mrs J Reed, bred by Mrs M L Pummell
Overall BIS Pedigree Cat
UK OS IGrCh JEMINEVE SPARK-OF-MAGIC
Pedigree Pet
Pedigree pet shorthair, IGMC JAKE owned by Mrs A Finney
Household Pet
Non-pedigree pet shorthair kitten, WREN owned by Mrs S Pritchard
Overall BIS Household Pet
WREN
Balinese Cat Society Best in Show 2023
Oriental and Overall BIS
Oriental Red Neuter Male, IGrPr FLUTTERBY PAPRIKA owned by Mrs J A Emmens, bred by Mrs K & Mr R Simpson
Siamese
Tortie Point Siamese Neuter Female, GrCh & GrPr WHALLEYBUSH WORLD-ABLAZE owned and bred by Mrs J L & Miss P J Hargan
Balinese
Tabby Point Balinese Adult Female, Ch APRIKAT SERENWENN owned by Mrs E Corps, bred by Mrs R L Smyth