The Burmese cat slub show 2019
Back for another year the show will be held on Saturday 16th March 2019 at Woking Leisure Centre, Kingfield Road, Woking, GU22 9BA. The show is being held back to back with the Surrey and Sussex Cat Association Show.
We will be having lots of special prizes including homemade cake for Best of Breed winners. There will be an information area with posters on 'hot topics'.
Come and join us either to show your lovely Burmese or perhaps to visit for a little retail therapy. There are plenty of stalls to explore including food, toys, pet housing, bedding and much much more!
The Woking Leisure Centre has excellent facilities and is a short walk from a Woking town centre. Come and join us!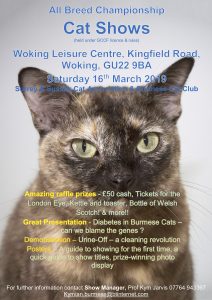 Schedule of the 37th Championship show
Additional information
Not sure what to expect? Click the buttons below for more information. The standard of points is very useful as it explains how your cat will be judged and what makes a good breed type. Stef Beirne has also put together the handy guide to showing which explains how you can get involved.